ALICIA VS. AMERICA...
...PLACE YOUR BETS.
EAST OF HOPE STREET
Starring Star Trek:Voyager's Tim Russ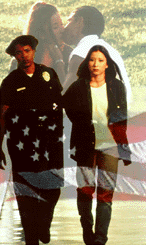 A NATE THOMAS FILM
A NATE THOMAS/TIM RUSS PRODUCTION
Winner Best Feature Film
Winner Best Actor Award (Jade Herrera)
New Orleans Urban Film & Video Festival

"This movie realistically portrays life in the inner city from a
stark, unflinching perspective."
                                       -Elias Stimac
Drama Logue

Color 88 min. Super 16mm
---
A GRITTY, URBAN, REAL-LIFE STORY OF A TEENAGE LATINA WHO COMES OF A GE WHILE STR UGGLING TO S UR VIVE THE AB USES OF HOME, THE INNER CITY, AND AN OVERBURDENED SOCIAL SYSTEM IN A LOS ANGELES MOST OF US NEVER SEE.
NATE THOMAS - BIOGRAPHY
Department of Radio-Television-Film
Nate Thomas has directed and/or produced numerous film projects including an award-winning PBS documentary, television commercials, public service announcements, music videos, etc. He spent in-flight and ground travel time with 1988 presidential candidate Jesse Jackson directing and producing for the campaign Under The Rainbow, a 16mm promotional film narrated by Casey Kasem. In addition, he produced several of Jackson's television commercials. In Hawaii, Nate line-produced a 70mm IMAX film presentation for Japan's Expo '89. He also produced and directed a series of award-winning 35mm anti-alcohol public service announcements for the California Department of Alcohol and Drug Programs, a featurette and electronic press kit for Universal Pictures' Ghost Dad starring Bill Cosby, and the nationally televised PBS film The Last of the One Night Stands. This film won numerous awards including a CINE Golden Eagle, a Focus Award, honors at the San Francisco International Film Festival and an award from the Black American Cinema Society. It was given special screenings at the 15th annual Wellington Film Festival in New Zealand and the Smithsonian Institution where it is contained in the film archives. Nate, a Warren, Ohio native, holds a Bachelor of Arts degree in Theater from St. Edward's University in Austin, Texas. Using a graduate fellowship from Warner Brothers, he received a Master of Fine Arts degree in Cinema Production from the prestigious University of Southern California School of Cinema/Television. He is listed in Who's Who Among African Americans and is a Film Professor at California State University, Northridge. Mr. Thomas recently won a Sony Innovator Award in recognition of his film work and has just completed post production on his first independent feature film entitled East of Hope Street. Mr. Thomas directed the urban drama which was co-written and co-produced with long time friend and associate Tim Russ, star of Paramount Television's Star Trek: Voyager series. The film is a real-life story of a teenage Latina who comes of age while struggling to survive the abuses of home, the inner city, and an overburdened social system in a Los Angeles most of us never see.
TIM RUSS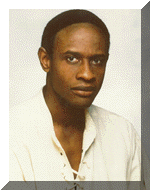 Starfleet Tactical/ Security Officer Tuvok
in Star Trek: Voyager
Tim Russ stars as Tuvok, a VuIcan who serves as the Starfleet Tactical/ Security Officer aboard the Starship U.S.S. Voyager in Star Trek. Voyager, the newest installment in the highly successful Star Trek franchise. When the Starship U.S.S. Voyager is caught up in a strange occurrence that takes it to the far reaches of the galaxy, Tuvok's powerful combination of wisdom, experience and physical skills make him a valued addition to the crew. How does Tim feel about playing the emotionless Vulcan? "I can identify with Tuvok in that we both believe in the power of logic," responds Tim.
Born into a military family in Washington, D.C., Tim was raised on Airforce bases around the world. He and his younger brother and sister spent time in the Orient and the Middle East before his family finally settled in Sacramento. Tim feels there is a direct correlation between growing up in a military family and being an actor . . . each have elements of insecurity; each make you adapt to change; and both are unpredictable by nature.
Tim's first professional job came while he was still in college at St. Edwards University in Austin, Texas, when he appeared in a PBS Masterpiece Theater production. But it wasn't until 1985, eight years later, that he began to work full time at his trade. While Tim's efforts have been split equally between film, television and the stage, his most memorable roles to date have been in television.
Tim starred as Sam Jones' computer-whiz compadre in the NBC primetime series The highwayman, and he appeared as the answering Machine Guy in the NBC primetime situation comedy The People Next Door. This role found Tim playing an annoying alter-ego character who resided in series star Jeffrey Jones' answering machine. In addition, Tim had a recurring part in the syndicated drama arresting Behavior, which was loosely based on the reality program Cops, and he made guest appearances on Freddy's Nightmares with star Robert Englund, Jon primetime pilot, which was filmed live at the Aquarius theater, and the NBC pilot Journey To The Center Of The Earth.
Tim Russ
Ironically, Tim had a long history with Star Trek even before landing his current role as Tuvok. He played a humanoid terrorist in an installment of Star Trek., The Next Generation; he appeared as T'Kar, a Klingon mercenary, in several episodes of Star Trek. Deep Space Nine; and Tim will soon appear as a Starfleet tactical officer in the upcoming feature film presentation "Star Trek: Generations."
Tim has also appeared in numerous telefilm projects. He portrayed a deputy sheriff in Dead Silence, and was cast opposite actress virginia Madsen in the USA Cable movie Bitter Vengeance. One of Tim's most memorable roles was that of a military corporal in Heroes of the Storm, a television movie that depicted true-life stories from survivors of Desert Storm.
Feature films have also kept Tim busy. He made his debut in the 1985 Paramount feature "Fire With Fire," where he played an honor warden at a juvenile camp alongside Craig Shaeffer and Virginia Madsen, and will soon appear as a detective in the upcoming Propaganda offering "Dead Connection" with Michael Madsen and Lisa Bonnet.
Tim is a veteran of the stage as well, having appeared in numerous roles across the country. Most recently, Tim starred in an updated version of the Bard's "Romeo and Juliet" which was staged at the CBS/MTM studios. He received the NAACP Image Rward for his portrayal of "Barrabas" in the eponymously titled Los Angeles Theater Center production, and has also appeared in productions of "Dream Girls," at L.A.'s Schubert Theater, "As You Like It," "Twelfth Night," "Macbeth" and "Cave Dwellers."
When not acting, Tim finds time to indulge his other passions -- writing and music. fin accomplished guitarist and vocalist, Tim has performed in a number of bands and stage productions over the past 28 gears. In addition, a public service announcement he wrote called "The Zone" won the Song Innovators Award
Rick Berman, Michael Piller and Jeri Taylor are creators /executive producers of Star Trek: Voyager, the newest incarnation in the popular Star Trek franchise. Star Trek., Voyager is based on Star Trek, created by Gene Roddenberry. The series is produced by Paramount Network Television for the United Paramount network. Paramount Network Television is a part of the Paramount Television Group.
EAST OF HOPE STREET
PRINCIPAL CAST:
JADE HERRERA
ROXANNE COYNE
ASANIO LARA
GREER BOHANON
MAGDA RIVERA
TIM RUSS
PRINCIPAL CREW:
DIRECTED BY NATE THOMAS
PRODUCED BY NATE THOMAS & TIM RUSS
SCREENPLAY BY NATE THOMAS & TIM RUSS
EXECUTIVE PRODUCER: TIM RUSS
LINE PRODUCER: OSCAR HARRISON, JR.
CO-PRODUCER: JEFF BELKER
DIRECTOR OF PHOTOGRAPHY: MARK WOODS
ART DIRECTION: KATHRYN ANTHONY
MUSIC COMPOSED BY JONATHAN MERRILL
EDITED BY ROBERT DAVENPORT II
CASTING BY TAMARA SIBLEY
ASSISTANT DIRECTOR: MICHAEL SCOTT
SOUND MIXER: ROBERT DAVENPORT II
MAKE-UP: MINA KING
COSTUME SUPERVISOR: ANGELA SOSTRE
PROPERTY MISTRESS: ANDREA ROSENBLUM
SET DRESSER: DAPHNE COLEMAN
SOUND EDITOR: RICHARD MCCURDY
EAST OF HOPE STREET
PRESS CONTACT:
Larry Goldman
Michele Fischer/Jolynn Baca
BENDER, GOLDMAN re HELPER
(318) 473-4147
John R. Wentworth
Trisha Orissi
Media Relations
PARAMOUNT TELEVISION
GROUP
(213) 956-5965
Kevin Brockman
Sharon Williams
UNITED PARAMOUNT
NETWORK
18111 Nordhoff St. -Northridge -California - 91330-8317 -phone (818) 677-3192 -fax (818) 677-4919
  The California State University - Bakersfield - Chico - Dominguez Hills - Fresno - Fullerton - Hayward - Humboldt - Long Beach - Los Angeles - Maritime Academy