Current Projects of Tim Russ
Samantha-airdate
New eps of "Samantha Who?" are being delayed. It seems as if we had to wait till March 26, 2009 for the next new episode, and there will be a new time slot, too, presumably 8:30 pm.
"Trust Me" - new series
The latest series in which Tim has a recurring role, "Trust Me", premiered on TNT on January 26, 2009. Tim plays "Gordon Benedict", the account director of an advertising company. I opened a new sub-page for the series here.
People's Choice Award for "Samantha" Christina Applegate
Samantha Who-star Christina Applegate won the People's Choice Award in the category "favorite female TV star". See all the winners at the P.C.A.-webpage.

.
"Star Trek: OF Gods and Men" available on DVD
If you have always wanted a DVD of "Of Gods and Men", you can get it now. They are giving away one free DVD with each order from their store. More information on that at http://startrekofgodsandmen.com/main/.
"The Company Man"
Tim will be directing "The Company Man" for Robert Michael Conrad and James Nestor on January 17. It's written by James Nestor and is listed on their webpage as episode 3 of "Tales from Dark Fall".
"Night at the Silent Theater"
Tim recently directed this indie movie and is working on editing it right now. The title is a working title and may change. Tim describes it as a "feel good movie".
"Greyscale"
In this indie thriller, Tim plays the character "Gavin Calhoun". It is written and directed by Ryan Dunlap.
iCarly Season 2
Tim continues to make recurring appearances on "iCarly" as school principal. The first season 2 ep with him has already aired (Oct. 11, 2008). It is called "iOwe You".
Scene 5
Tim is also working on a new short, titled "Scene 5". This is about a guy (Jeff Rector) who writes, rehearses then lives a special moment in their life. But that moment is interrupted by another person who is doing the same thing with THEIR life. Sounds like yet another cool story!
new: this seems to be part of a larger project by "bobandjimprojects.com", called "Tales from Dark Fall". It is written by Tim and Kristine Lynne Adams and directed by Tim. For productions pics and more information check out the official site.
"Samantha Who?" goes to Europe
"Samantha Who?" is finally being shown in Europe as well. Reportedly, in the UK channel E4 and in Ireland channel TG4 will start airing the show on September 11.
For German viewers, Pro7 starts airing the show on Sept. 3, at 10:15 p.m. and the Austrian channel ORF (I am still in shock that they are actually airing something new and good! And with secondary audio programming in the original English, too!) starts it on Sept. 6, at 5:35 p.m.
"Samantha Who?" - second season
If you haven't heard it yet, season 2 of "Samantha Who?" is scheduled to begin on Oct. 13, 2008 at 9:30/8:30 c p.m.
"Of Gods and Men" wins award
"Of Gods and Men" won the 2008 Syfy Portal Genre Award for Best Web Production. You can find information on this at sfyfyportal.com. Congratulations to everybody involved with this project. This is a major achievement!
"Bugsters!"-book
The "Bugsters!"-book was released in July. If you pre-ordered it, you should have received your copy by now.
New DVD with short films
The first six of Tim's short films have been re-released on one DVD, titled "Frame of Mind". This DVD contains "Déjà Vu", "Eye of the Beholder", "Story by Amy Niles", "Plugged", "Super Heroes" and the new one, "Mistaken Identity", plus the additional footage from the "Déjà Vu"-DVD and some outtakes from "Plugged". You can purchase this DVD from bobandjimprojects.com. Here is a scan of the cover: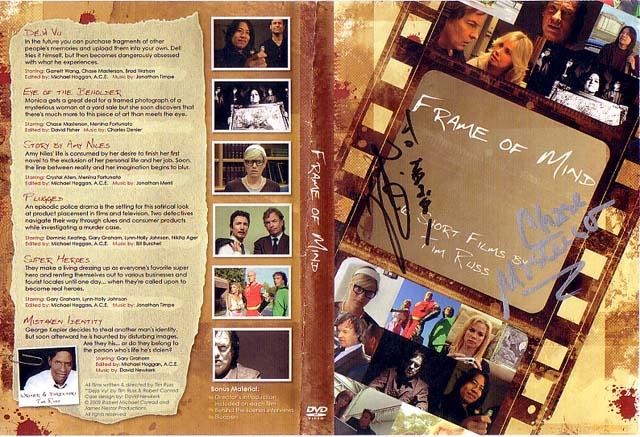 "Divas of Novella"
Tim is once again working with Robert Michael Conrad, this time on one of Bob Conrad's projects. It's called "Divas of Novella" and Tim describes it as a a campy, "Barbarella" type story, featuring 4 women in the lead - sci-fi, future story with action etc. Tim is helping Bob with the story and directing it. For more information, check out the project's webpage at divasofnovella.com. In this "sexy and adventurous space epic", three beautiful gladiators from the prison planet of Novella have to face space pirates and an intergalactic fight for freedom. The projects is produced by Robert Michael Conrad, James Nestor and Menina Fortunato. The cast includes Gary Graham as "McGreg", Crystal Allen as "Cassidy", Sofie Norman as "Ivana Slash", Brandon Alter as "Agent Vent", Caroline Attwood as "Sellon", Tara Cardinal as "Zarin", Lana as "Zeld", Melinda Rochelle as "Female MC" and Cy Platt as "Karr".
Here are a few pics from the shooting:
"Mistaken Identity" and "Low Tech"
Tim is currently working on the short "Mistaken Identity". He hopes he will have it ready for the convention in Vegas in August. He has also started working on a new short, "Low Tech". There are plans of putting the first 6 of his shorts (including "Mistaken Identity") together on one DVD and the new one on a separate disk once it's ready.
"Samantha Who?" renewed
new: Next week, on May 12, it's the season finale! But we won't have to wait for more "Samantha" too long, since season 2 will start filming end of May 2008. There's more good news: according to tvshowsondvd.com, season 1 will be released on DVD on Sept. 23, 2008!
Now that the writers' strike has been settled, three more episodes of "Samantha" are being produced. These three, together with the last ones produced before the onset of the strike will start airing on April 7.
The first 7-8 episodes for next season have also already been commissioned and will be filmed after a short hiatus. So expect to see more of "Frank" soon!
"Of Gods and Men" - Part II released
On March 15, Part II of "Of Gods and Men" was released. If you watched Part I you should have received an e-mail informing you about where you can watch PArt II. If not, go to http://www.startrekofgodsandmen.net/main/ for instructions. I enjoyed Part 2 a lot, it nicely advances the story and has some really fabulous performances by the actor. Even though I am not happy about what happens to Tuvok, I am really pleased with how Tim acts these scenes. Walter and Nichelle are also outstanding. A real treat!
Shooting "Mistaken Identity"
Tim wrapped his latest short film the weekend of Jan. 19/20,2008. Tim as well as producers Bob Conrad and Jim Nestor are very happy with the results. They hope the movie will be available by April for Grand Slam. Here are a few behind-the-scene pics showing Tim directing the short.
"Star Trek: The Tour"
Tim just filmed a sequence for "Star Trek: The Tour", together with Will Wheaton. He plays Tuvok again. I think this may be part of the shuttle-simulator ride, similar to what Bob Picardo and Kate Mulgrew did for the Borg ride at "Star Trek: The Experience" in Vegas.
"Bugsters!"-book
Pre-ordered copies will be shipped in early spring. If you haven't pre-ordered a book yet but would like to do so, download this order form. The price is 20$ for one book, including s/h.
"Of Gods and Men" - part 1
Part 1 of "Of Gods and Men" is finally available. For watching it online, please go to startrekofgodsandmen.com or startrekofgodsandmen.net. Right now part 1 is only available via streaming in a very small file. To make streaming work for a high number of people, the file was highly compressed, thus, the sound is only mono and the FX do not look anywhere near as good as they could. The team has promised to make a high resolution file available at a later date.
"Super Heroes" and "Mistaken Identity"
Jan. 2, 2008: "Super Heroes has been released in the meantime. You can purchase the DVD from bobandjimprojects.com". Also, the filming dates for "Mistaken Identity" have been moved to the weekend of Jan. 19/20. Stay tuned for more details and pics from the shooting!
"Super Heroes" is almost complete. It went through several cuts, and currently Tim is working on the music. The short movie is planned to premiere at the Light Speed convention in Lake Forest the weekend of Nov. 30-Dec. 2, 2007. Here you can see the design for the DVD-cover:
The next project Tim will be doing with producers Robert Michael Conrad and James Nestor is "Mistaken Identity", a psychological drama. It is scheduled to shoot on January 12 & 13, and will once again star Gary Graham. Casting for additional roles is taking place this coming Friday, Nov. 16, so there may soon be more information on the cast.
"Of Gods and Men" - release date
The wait is over! Today the team of "Of Gods and Men" announced that part I will be released on Dec. 22, 2007 at 17.01 EST - just in time for Christmas! Release dates for parts II & III to follow shortly. In the meantime check out the cool pics, interviews etc. at the movie's official website.
"Truth in Advertising"
During a one-week break of "Samantha Who?" Tim has been filming a pilot for yet another series, "Truth in Advertising", this time for TNT. If picked up, Tim's character "Gordon Benedict", an exec at an ad agency, will be a recurring one. It's an hour-long show, basically a drama, but with elements of a comedy. The "Futon Critic" describes it as folows: drama set at a contemporary madison avenue ad agency that would feature the characters hawking real products that are paid for by advertisers. For those of you fondly remembering "Will and Grace" and/or "Ed", look forward to seeing Eric McCormack as Mason McGuire and Tom Cavanagh as Conner. The third regular is Monica Potter as Sarah Krajicek-Hunter. And don't forget to keep your fingers crossed for this pilot to be picked up!
Tidbits
First, I finally managed to get a page up for "iCarly". You can find it here.
Second, the release date(s) for the three parts of "Of Gods and Men" will be announced on Nov. 1, 2007. Yep, that's this coming week.
"Samantha who?" premieres on ABC on Oct. 15
"Samantha Who?" premiered on ABC on Oct. 15, 2007 and the pilot was a huge success in the ratings. Hopefully this will continue... I have now started a page with pics and info on the new series. Check out pics of Samantha meeting with Frank, the doorman on my new Samantha-page.
(PS: a similar page for "iCarly" will follow soon - the pilot with Tim has aired as well, and he has done a few more episodes in the meantime as the School Principal).
Tim promotes all his current projects at the Creation Con in Las Vegas
The Creation Con in Las Vegas Aug. 9-12 (Tim was there at the pre-Con opening event on Aug. 8 and on Aug. 9), was an ideal place for Tim to promote his latest projects. He showed the trailer of "Of Gods and Men" - complete with the most recent version of the FX - he talked about his upcoming series "Samantha Who?", he introduced his upcoming book-version of the award-winning children's audiobook "Bugstes" (see also my Bugsters-page for pics of the Bugsters-table in the Dealers' room), and his short movie "Plugged" was shown at the convention in the presence of the two producers, Robert Michael Conrad and James Nestor. Unfortunately the timing was less than perfect for the showing of "Plugged", since neither Tim nor one of the two stars, Dominic Keating and Gary Graham, were in Vegas anymore during that presentation. But Bob and Jim managed well, even without their actors. Here are a few pics, showing how "Plugged" was promoted:

Jim Nestor (left) and Bob Conrad
selling "Plugged"
in the Dealer's Room

Jim and Bob's table
in the Dealers' Room was directly
opposite the "Bugsters!"-table
- a real "Tim Aisle"

Jim Nestor at the presentation
of "Plugged", Saturday

Bob Conrad at the presentation
of "Plugged", Saturday

Bob and Jim presenting "Plugged"
and their other projects
Tidbits from the Columbus Sci-Fi Expo, July 13-15, 2007
Tim showed "Plugged" for the first time. It will be officially presented in Vegas next month. By coincidence, Bob also mailed me the final version of the cover. Here it is:
Tim mentioned that his role (a school principal) in "iCarly" may be recurring. It remains to be seen if he can work on two shows at the same time.
Tim's Children's audio CD "Bugsters!" is being prepared for a softbook-release (probably in time for Christmas). This book will have the CD included, so that kids can read along while listening to it. Does that sound like a cool project or what? Tim also talked about filming "Live Free or Die Hard". He never got a script for that, only ever a few pages containing his lines for the day. He never had an idea what the story was about, while he was filming. The other actor who was in the scenes with him (I think he was referring to the guy playing Molina) had a really hard time with this, since he didn't have a script either. This was supposedly done to protect the story from leaking out prematurely. Not even the actors knew what this was all about!
Last, but not least, Bob also sent me the logo, that was used in "Super Heroes" on the car of Gary Graham's and Lynn Holly Johnson's characters. "Super Heroes" is close to completion as well, Bob hopes it will be ready for Vegas, Tim is not 100% certain about that, so we'll just have to wait and see.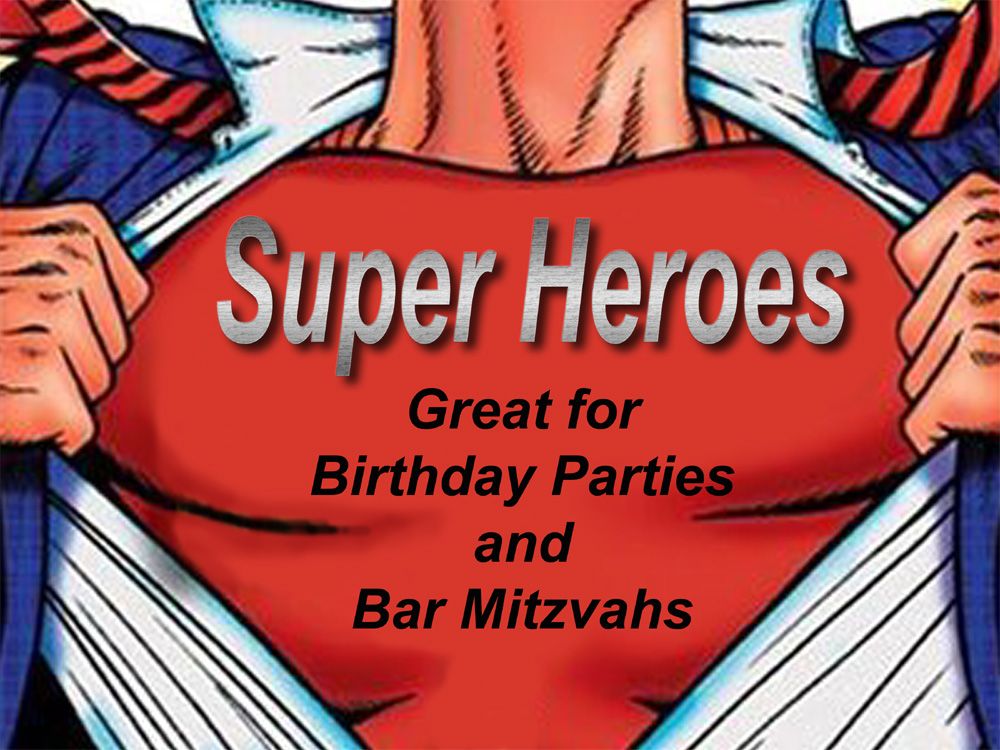 More on "Samantha Be Good"
June 29: Guess what: we have yet another title change! Apparently it's now "Samantha Who?" - at least according to ABC's website.

June 23: Yep, that's right, that's the new title. The link to ABC's page on the show has changed yet again, it is now http://abc.go.com/fallpreview/samanthabegood/index, but the video clip is still offline.
June 20: ABC will rename the show, since the estate of Dr. Seuss has complained. "Sam I Am" is a direct quote from "Green Eggs and Ham", which they used without permission. The new title may be "Samantha Be Good" or similar. ABC is redoing its website for the show, the preview is therefore currently offline. The show is still referred to as "untitled"as you can see: http://abc.go.com/fallpreview/untitled/index.
ABC has a short preview-clip of the show up at http://abc.go.com/fallpreview/samiam/. You can see Tim's character towards the end of the clip. Also, zap2it.com has posted a gallery of publicity shots for the show. Tim's picture is #7, the cast picture is #8.
Police Service Announcements and "iCarly"
Tim will also be co-producing and directing 8-10 PSAs for the LAPD, that you may be able to catch on radio, TV or other media.
In addition, Tim also had a part in the pilot of "iCarly", a new show for Nickelodeon. That series has been picked up as well, so the pilot will probably air some time this fall.
More on "Plugged"
New: Tim just re-shot the opening sequence of "Plugged", so that an as-of-yet unannounced Trek actor can make a guest appearance (okay, I know, who it is, but I am not going to tell), and Tim says it's a lot funnier than the opening they had before.
I just got a scan of the first (still tentative) draft of the cover art for "Plugged". By the way, check out http://www.bobandjimprojects.com for ordering this or previous movies they did in collaboration with Tim.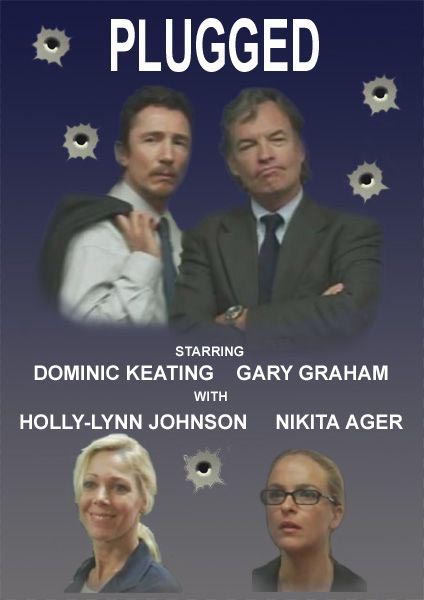 "Sam I Am"
NewFilming for "Sam I Am" is scheduled to begin on August 6.
Tim is in the pilot for the new sitcom "Sam I Am" on ABC. The series is about Samantha "Sam" (Christina Applegate), who after waking up from a coma, has lost her memory and does not know anymore who she is. Tim plays Frank, the doorman of the building where she lives. He knows a lot about her past, even though till now she hasn't even known his name, which makes him something like her mentor/go-to-guy. And yes, that means, he is a regular on the show. The pilot was directed by VOY co-star Robbie McNeill, by the way. The show is currently scheduled for Mondays at 9:30/8:30 c on ABC and 13 episodes have been ordered.
"Hannah Montana"
Tim appeared in an episode of "Hannah Montana" on April 27, 2007. The episode was titled "I Am Hannah, Hear Me Croak". Tim played "Dr. Meyer", who treated Miley's throat, when she suddenly could only croak instead of sing. For screen caps of the episode check out otherparts12.htm.
New Short "Super Heroes"
New: Tim Russ will direct "Enterprise"'s and "Alien Nation's" Gary Graham and James Bond girl (Bebe, "For Your Eyes Only" and "Ice Castles ") Lynn Holly Johnson in the comedy "Super Heroes" this June , 2007 (on June 1 & 2). Two super hero impersonators who entertain at children's parties become the custodians of a real life super hero from "The Fourth Dimension". Their mission is to help this traveler accomplish a real life mission to save a shy boy from some small town bullies. Gary Graham plays comic book outsider "Comet", a Mel Gibson, "Lethal Weapon" type loser who fights crime along with a high powered attorney played by Lynn Holly Johnson, who idealized "Wonder Woman" as a little girl. Argos appears in their back seat of their truck in the midst of inner dimensionally traveling to heed the requests of a small boy who desperately needs his super heros to save him. The film will be produced by James Nestor and Robert Michael Conrad who recently produced Russ's "Déjà Vu (Comic Con Film Nominee 2006 ), "Eye of the Beholder" and "Plugged". The film will be previewed before distribution later this summer at the Creation Sci Fi Convention in August in Las Vegas.
The new short movie will be called "Super Heroes" It is about two costumed, kid's party super heroes, that are invited on a mission to help to save someone from peril by a true-life alien super hero.
Here is a short press release on it: "Tim Russ Star Trek Voyager will direct a film for Robert Michael Conrad and Jim Nestor entitled "Super Heroes". It will Star Gary Graham "Enterprise" and "Alien Nation"and James Bond girl Lynn Holly Johnson. The film shoot June 1st and 2nd, 2007." For more info check out the producers' website at bobandjimprojects.com.
"Of Gods and Men"
Part I of "Of Gods and Men" has been delayed again, since they are still working on the FX. But, they have revamped their website, which is now awesome, includes a forum, several short videos (other than the trailer, there is now some behind the scenes material as well as the first 3 minutes of the movie), lots of pictures, etc. Check it out at http://www.startrekofgodsandmen.com.
New short movie
Tim is once again teaming up with producers Robert Michael Conrad and James Nestor. Their next project will be called "Mistaken Identity" and is scheduled for filming in early summer. Stay tuned for more information.
"Plugged" wrapped weekend Jan. 20/21
Tim's latest short movie, "Plugged", wrapped principal photography last weekend. The shoot went well and everybody had a lot of fun. bobandjimprojects.com have an article on it here and a few more pictures from the filming here.
| | | |
| --- | --- | --- |
| Tim and Bob Conrad | | Dominc Keating in a tree |
Update on "Of Gods and Men"
The release dates for the three parts of "Of Gods and Men" have been announced this week. They will be April 15, May 13 and June 17, respectively. The release has been delayed to give the special effects team more time to work on the complex effects needed for parts 2 & 3 and to avoid too long an interval between the release of part 1 and the other two. In the meantime, the production team promises to tease us with some exciting material (photos, interviews, outtakes) soon to be published on their website.
Cast for new short movie
The cast for Tim's latest short movie, "Plugged" (formerly known as "After Market"), consists of several Trek veterans. Joining Gary Graham (Soval on Enterprise, Tanis on Voyager) will be Dominc Keating (Reed) and Nikita Ager (Rajiin). Dec. 15: Also joining the cast of "Plugged" will be Golden Globe Nominee and James Bond girl Lynn Holly Johnson, playing a character called "Rand". She is probably best known for the lead in the hot feature film "Ice Castles" and the role of Bibi opposite Roger Moore in the James Bond movie "For Your Eyes Only".
More acting
Tim will also be playing a Homeland Security Agent named "Summers" in the next "Die Hard" feature film shooting in L.A. this January 2007.
New Trailer for "Of Gods and Men"
Nov. 26: The new, longer trailer (about 5 minutes) for "Of Gods and Men" is now online. You can find it at http://www.startrekofgodsandmen.com/trailer/STOGAMhigh.mov.
New title and tentative casting
Nov. 17: Tim's new short movie, previouwly known as "After Market", is now called "Plugged". It also looks as if Gary Graham (Ambassador Soval on "Enterprise") might play one of the leads. I'll keep you posted!
More new projects
Nov. 11: In addition to continued work on "General Hospital", Tim also just landed a guest role on "Without a Trace", which he will film next week, on Nov. 16.
Nov. 14: The character is called Phil Hansen, he is an NTSB investigator.
Tim is also working on music for a partial collection music CD, which will probably become available towards the end of the year or in early Januar. The title will most likely be: "Tim Russ: 2nd Thoughts".
Acting Seminar on Nov. 4
On November 4, 2006 Tim taught an acting class at Saddleback College. Robert M. Conrad gave me the following information on what happened at that event:
Tim Russ teaches acting students how to get the job! Tim Russ taught a class in "Auditioning for the Actor" at Saddleback College in Orange County California on November 4th. Tim discussed his secrets in approaching the script as an actors and making the words your own. Highlights including the students reading from Tim's films "Eye of the Beholder" and "Déjà Vu" and the students saw Tim's acting reel with moments from Star Trek Voyager, "ER" and "Twenty Good Years". Moderators for the event for producers Robert Michael Conrad and James Nestor who are working with Tim on his next film, "After Market" scheduled to lens on January 20th, 2007. The event culminated in a screening of the highly praise "Eye of the Beholder" that Tim directed and was produced by Conrad and Nestor.
Mr. Robert M. Conrad also provided me with the following two pictures, which were taken at the seminar with a cell phone camera. I hope you will enjoy them despite their low resolution.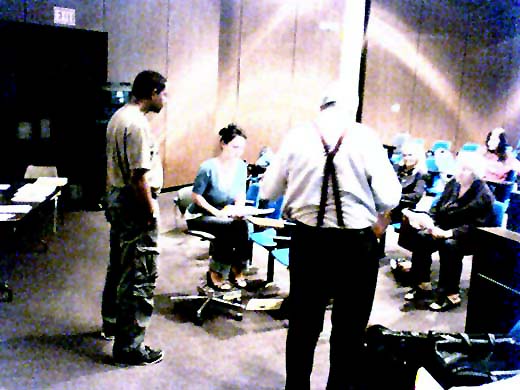 New short movie: "After Market"
Nov. 3: Tim has teamed up with Robert M. Conrad and James Nestor again for another short movie. Here are the details:
"After Market" is a "product placement" parody dressed as a police drama. Directed and written by Tim Russ and produced by Robert Michael Conrad and James Nestor. Shooting begins January 20th-2007 with notable names from Star Trek.
Synopsis: Two detectives working on a murder case not only have to tolerate but are also obligated to participate in the pitching of retail products of all shapes and sizes while trying to do their jobs. The two cops do their best to solve the crime while they are beset by everything from teeth whitening gels and motivational seminars, to laundry detergent.
More on "Of Gods and Men"
Oct. 12: A very interesting article plus many cool pics from the last three days of filming can be found at trekmovie.com. I can't wait for this movie!
More "General Hospital" screen caps
Nov. 1: Pics (by WELCOMEBACKGENIE837) from Tim's appearance in the episode of Oct. 26 can be found here.
Oct. 11: Unfortunately there are no pics from Tim's appearance in the episode of Sept. 27 at generalhospitalhappenings.com. But there are pics from yeasterday's episode. You can find these pics (by SickyRicky822) here (at the bottom of the page) and here (top row of pictures).
"Of Gods and Men" wrapped filming
Oct. 1 was the last day of filming of "Of Gods and Men". emediawire.com published a short press release on this movie on Oct. 3.
Pictures from "General Hospital"
Sept. 23: I just discovered screen caps from the various episodes of "General Hospital" that Tim has appeared in so far. They are all at a site called "generalhospitalhappenings.com" Here are the links: Episode of Sept. 6 (pics by --ItisAPCbabyBoom--): click here Episode of Sept. 13 (pics by DillonIsABigJerk773): click here (you must scroll down on this page, it's the last picture) click here or click here Episode of Sept. 14 (pics by GiveJaxYourHeartCarly779): click here
News on current projects
Sept. 15: "20 Good Years": the pilot is currently scheduled to air on Oct. 11 at 8:30 PM on NBC. Other than the pilot, Tim has already filmed an episode ("The Elbow Incident") and is about to film another one. "Story by Amy Niles": the trailer is now available at bobandjimprojects.com. They also have pictures from the introduction of "Eye of the Beholder" at the Las Vegas Con last August. You will find those here. "Star Trek of Gods and Men": The trailer for this movie is online as well, at startrekofgodsandmen.com. There are three more days of filming at the end of September, and the whole movie will probably be available in January. "General Hospital": Tim was on two episodes this week, and he is still filming. Let's hope they will need "Dr. Trent" for a while longer...
"General Hospital"
Watch out for Tim in the recurring role of "Dr. Trent", the first episode featuring this new character is currently being filmed.
More on "Star Trek of Gods and Men"
Tim is currently prepping to shoot the last few scenes of the movie. There is an opportunity for fans, who own red movie uniforms and/or Vulcan attire, to appear as extras. Filming of these scenes is scheduled for the end of September (Sept. 29-Oct. 1) and will take place in the L.A. area. If you are interested, contact Doug through the "Of Gods and Men"-website.
The filming in Port Henry seems to have been quite an experience. After a few more days of filming in L.A. the movie will go into post production. Trekweb.com has links to two production pictures: Tim and Nichelle Nichols can be found here, Garrett Wang and Crystal Allen here. Trekweb also has an interview with Crystal Allen, where she talks about both, "Of Gods and Men" and "Story by Amy Niles". And last but not least, the official press release is up at the "Of Gods and Men"-page. According to them we can expect a Christmas release of the movie.
NCIS-episode "Jeopardy"
May 4: Vidcaps of Tim from the episode can be found here. April 20: According to tv.com, Tim will be appearing in an upcoming episode of "NCIS", titled "Jeopardy". The airdate for the episode is supposedly May 2, Tim's character is called "Jerry Kemper", and also listed among the guest stars is Enterprise's Connor Trinneer.
New project "20 Good Years"
April 16: Tim will shortly be filming a pilot for a new sitcom, "20 Good Years", starring John Lithgow and Jeffery Tambor. The premise is that these two aging guys decide to make the most out of the next twenty years of their lives. Tim's character is called "Marty" and he is a penny pinching administrator who makes everyone's life a bit miserable. The pilot will be filmed in late April. The show was picked up in mid-May, and there is a good chance that Tim's character will be recurring, so keep your fingers crossed!

;
New project "Story by Amy Niles"
April 12: Tim will direct yet another movie for Bob Conrad and Jim Nestor, namely "Story by Amy Niles", which he also wrote. The movie will most likely shoot in early July. "Story by Amy Niles" is about a writer, "Amy Niles" who is chained to a tedious, full time office job, but dreams of being a writer. She?s obsessed with trying to finish her first novel and steels whatever moments she can find at work to do so, much to the consternation of her boss. Under pressure from her landlord to pay the rent, and with her job on the line, she eventually escapes her reality and becomes part of her fictional story. More info to come! April 18: I started a new page for this project which contains the tentative casting.
New Trek-related project "Star Trek Of Gods and Men"
June 22: The movie is currently scheduled to start filming on July 12. Once completed, it will be distributed over the internet in 3 parts. As you may have guessed from the line-up of actors, it will take place on the Enterprise-B under Captain Harriman. It will be in part produced by the team behind "New Voyages" and part of it will be shot on the New Voyages set in New York State. It is written by Sky Conway, Jack Trevino and Ethan H. Calk. If you go to www.startrekofgodsandmen.com you can subscribe to their mailing list and get updates on the project.
April 14: Tim just mentioned in a chat at roddenberry.com that the script is currently being polished and that there will be a few surprise characters.
April 6: As you can see from the header, the title of this new, full-length movie will be "Star Trek Of Gods and Men". There will be a web page on this movie, the URL is http://www.startrekofgodsandmen.com/. Right now it tells you that Tim will be directing and that the cast will be Nichelle Nichols, Walter Koenig, Alan Ruck, Tim himself, Garrett Wang, Gary Graham, Grace Lee Whitney, Chase Masterson, Crystal Allen ... and a galaxy of Trek stars. Sounds exciting, doesn't it?
Feb. 26: Tim is set to direct a Trek project produced by the same guy that exec produced "Roddenberry on Patrol" (Sky Douglas Conway). It's a bigger project, though, and will shoot in May. Hopefully there will be more information on this soon.
"Eye of the Beholder"
Feb. 4: Shooting is underway. I have now started a new page on "Eye of the Beholder", which also contains a preliminary draft of cover art.
Dec. 14: Shooting for the movie will begin on February 3. In addition to Chase, two more actors have been casted, namely Menina Fortunato, who played the Orion Slave Girl Maras on "Enterprise", and Bruce Young, who had a major role in "Risky Business" and was a regular on "Highlander". You may also remember him from "The Sentinel", and his previous work with Tim on "Art Police".
Nov. 21: "Eye of the Beholder" is the title of Tim's latest movie project. The script is complete, and like "Déjà Vu", the movie will be produced by Jim Nestor and Robert Michael Conrad productions. Mr. Conrad calls it a "masterful script that personifies the classic "Twighlight Zone" series". Location scouting is currently in the works, auditions will be held in mid December. Chase Masterson has been signed on already for a role in this movie. According to Mr. Conrad she said she is looking forward to working with them again.
More acting
Oct. 12: Tim will be appearing in yet another episode of "Unfabulous" as the same policeman he played last time. Stay tuned for more information like episode title and air date.
New "Heartbreak Café" episode
Oct. 2: Tim also just directed an episode of "The Heartbreak Café" for Robert M. Conrad Productions. The episode is called "Writer's Block". That's already the second episode he did for this series. You can find out more about the series at their webpage and more about Tim's first directing job for them (episode title "Decision, Decisions") here.
Update on "Déjà Vu"
Oct. 1: "Déjà Vu" is in the process of being prepared for DVD release, which is planned for next month. I have already started a new page for this project, since I got two very cool production stills courtesy of Mr. Conrad form Robert M. Conrad Productions. There will be more information on this movie soon, so stay tuned!
Update on "Mythe" and more acting
The script for the feature-length movie "Mythe" is done by now, Tim described it as very concise, very exciting. The next step is now to find the right partners for production, which is what will keep Tim and Jedda busy for the foreseeable future. Tim also recently had a short guest part as a cop on the children's series "Unfabulous" (Nickelodeon). He says it was just one day of work, and he did it, since he was free that day. He also has done voice work for yet another computer game, "Hotwire".
Update on "Deja Vu"
Sept. 4: I saw Tim in Toronto last weekend and he showed the first couple of minutes of "Deja Vu". He said he has now a rough director's cut, he had hoped they would have it finished for the convention, but it won't be long now. From what I have seen, it looks great - good camera work and good acting. Both, Chase Masterson and Garrett Wang, were in the piece that Tim showed at the Canadian National Expo, and they were both very good in their respective roles.
Aug. 11: I talked to Chase Masterson today at the Las Vegas Convention and asked her about the movie. She told me that she is playing Garrett Wang's girlfriend and that Garrett's character has bought somebody else's memories in an auction - and that that obviously causes all sorts of problems. She also said it was "brilliantly directed" by Tim.
Directing job "Deja Vu"
May 2: Tim about to direct a sci-fi short film entitled, "Deja Vu" that he wrote for Robert Michael Conrad Productions, featuring Chase Masterson & Garrett Wang. Yay! I am so looking forward to that, since I like Garrett and Chase a lot as well!
Horror movie in the works
May 2: The movie is entitled "Mythe" and Tim is currently developing the script with girlfriend Jedda Roskilly and writer Devin Lorrance. It's a sci-fi horror-movie.
April 16: Tim is currently working on some private projects, including a horror film that he developed. Stay tuned for more information!
Radio show and "ER"
April 16: The surgical procedure that Tim's character used on that episode is apparently one that really exists and was recently developed. In order to use the equipment correctly and convincingly for that episode, Tim got instructions from a surgeon. The equipment that you see in the episode was donated to ER for that purpose. Isn't it great to see that medicine makes such good progress and gives stroke victims new hope?
Feb. 15: More information on the episode: This is about a female patient who has had a stroke, the episode is filmed from her perspective. More information on the episode can be found here. Tim plays "Dr. Medford".
Feb. 14: According to TV Week Tim's ER episode seems to air this week (Feb. 17). Thanks to Diane for the news!
Jan. 26: Tim participated in Chase Masterson's internet radio show "thefandom.com" this week. If you missed it (I did, too - had some internet troubles...), don't despair: an article on his interview plus the whole interview in mp3-format can be found at thefandom.com. Don't miss this, it is fabulous! Chase is wonderful as well.
Tim also just finished filming a guest appearance for an episode of "ER". The episode title is "Alone in a Crowd".
Computer Game "L.A. Law"
Tim did some voice work for this soon to be released computer game.
"Unbeatable Harold"
In this independent movie Tim plays a diner manager. The imdb gives the following information on the plot: "A wannabe Elvis meets his true love, the best waitress in the West." It is supposedly a romantic comedy.
"The Cabinet of Dr. Caligari"
Dec. 29:The movie is a remake of a classic silent horror movie. Tim's character is a rude city administrator who ends up getting killed. This new version of Dr. Caligari comes from the same production team that was behind "Roddenberry on Patrol". Tim plays "The Clerk". More about this project can be found here - just click on "Current Projects".
Independent Movie: "The Oh in Ohio"
Dec. 29: Tim plays the owner of a company. Nov. 8: The movie is called "The Oh in Ohio" and was filmed in Cleveland. According to the IMDb the story goes like that: A woman with a seemingly idyllic life has a secret: she's never had an orgasm. Leaving her husband, she finds her G-spot with a very unlikely companion. The main characters are played by Danny DeVito, Paul Rudd, Mischa Barton and Parker Posey. Oct. 29: Tim is going to film a part in an independent movie next week. More information to follow!
"East of Hope Street" and "Bugsters Tunes & Tales" finally released!
September saw the release of two of Tim's projects: His award-winning independent movie "East of Hope Street" is now finally available on DVD and it is absolutely fantastic! You can find more about it here and here.
The new "Bugsters"-CD, the continuation of the yet another award-winning project of Tim's, was also released in September. For more information on that one check out the Bugsters-site or my site for the project.
Airdates for FBI Files episodes
The airdates for Tim's latest directing jobs, two episodes of the "FBI Files", are as follows:
Aug. 10: FBI Files 97, (Blackburn), Discovery Channel, 8 p.m. & 11 p.m., Eastern & Pacific.
Aug. 31: FBI Files 98, (Vigoa et al.), Discovery Channel, 8 p.m. & 11 p.m., Eastern & Pacific.
2004 News
I asked Tim at the Creation Con in Seattle (Feb. 6-8) about current projects, and he told me that next up he is doing a commercial about "Eggleston", a local L.A. area foster home and after that he will be directing another episode of "FBI Files". For the next few weeks he has to concentrate on work behind the camera, since he is still recovering from surgery on his foot following an accident at basketball, so no acting for the moment. But he is also thinking about expanding a bit on his "Bugsters!"-project, but since that's only in the planning stages and nothing concrete yet, I can't tell you more about it just yet, but stay tuned.
More shorts
On Seatrek 2003 Tim also mentioned having directed two more shorts, in addition to "Roddenberry on Patrol", both will probably be shown at film festivals and are not currently available. He said they didn't have quite the same budget as "Roddenberry on Patrol", and he didn't have as much control over them as in the latter. One is called "Mind Games", and it is about two people with multiple personalities, one personality of the woman seducing one personality of the man, and when another one of her personalities is in charge, this one accuses him of rape. Supposedly this movie is based on a true story, which caused some troubles for the courts when the woman insisted on a lawsuit.
The other one is called "The Routine", and it is about a person that does the exact same things at the exact same time of the day every time, it repeats about three times, and when he quits his job, somebody else takes over and does the same things again, and in the end you find out it's a computer program.

| | |
| --- | --- |
| | "Roddenberry on Patrol": Tim recently directed a short movie (approximately 16-17 minutes), called "Roddenberry on Patrol". It shows in a humorous way, how Gene was inspired to write Star Trek while working as a police officer - or how it could have happened. Tim says it's a parody, but not in the sense of satyre, but as a hommage/tribute to the man. Several Trek actors appear in the movie, Tim explicitly mentioned Nichelle Nichols, Walter Koenig and himself. The film is now available on DVD, it premiered at a convention in El Paso in November 2003, I saw it at Seatrek 2003 in December, where they had to show it twice, so much did the audience love it! For more information check out my new "Roddenberry on Patrol"-page. |
"Genesis Force" is out!
| | |
| --- | --- |
| | Tim's latest audio-book has been available for quite some time. It takes place pretty much at the same time as some of the "Genesis Wave"-books and features the same characters. It does bring a certain conclusion to some elements of the series and Tim does an excellent job. There are lots of characters, but he makes them all sound different. |
&;quot;Elite Force II" is out!
| | |
| --- | --- |
| | "Elite Force II" was released on June 24, 2003. Believe it or not, there is a German version of the game which features the "original German voices" and you cannot switch to English and the original English voices! Therefore I had to order the game from the UK, since I obviously prefer the English version. |
Like the previous "Elite Force"-game, this one, too, starts with a training level, in which Tuvok explains to you all the movements and various ways how to use your equipment. He told me that my performance was "satisfactory"!
"Elite Force II" is on 2 CDs, so there is hope it will be a much longer game than the first one. Other than Tuvok, voiced by Tim, this game features Jean-Luc Picard, voiced by Patrick Stewart and Reginald Barclay, voiced by Dwight Schultz. Alexander Enberg (Vorik) once again provides the voice of Hazard Team member Austin Chang and several Trek veterans provide additional voices. Among those are J.G. Hertzler (Martok on DS9, but also the Hirogen Tsunkatse champion on Voyager), Jeffrey Combs (Brunt and Weyoun on DS9, but also Penk in "Tsunkatse" on VOY and the recurring Andorian Shran on Enterprise), Lisa Locicero (Miral in "Endgame"), Martha Hackett (Seska), Robert O'Reilly (Gowron), Tony Todd (Kurn, older Jake Sisko on DS9 and Alpha Hirogen in "Prey") and Vaughn Armstrong (Telek R'Mor in "Eye of the Needle", now Admiral Forrest on Enterprise).
The game looks incredibly good, though a bit dark. I had to increase the brightness level a lot. Other than that, the visuals are stunning and the faces seem to be much closer to the original than in the previous installment. I am looking forward a lot to playing the entire game.
Tim's recent directing jobs
Here is finally some detailed information on Tim's recent directing jobs - it comes directly from Tim himself, the information was mailed out through his fanclub-mailing list (see mailing lists). If you ask me, it's great news and I am very excited about it!
All the projects listed below were done for New Dominion Pictures. So far Tim does not know the episode titles yet, he just has episode numbers, but I'm sure we'll soon find out more.
FBI Files, should air in the Spring of 2003, it's episode #1683 and is about a bank robber and kidnapper. (Discovery Channel)
Critical Rescue, should air sometime late Spring 2003, it's episode # 2307 and involves the Oklahoma Tornado in 1999. (Discovery Channel)
Psychic Investigators, which is a pilot presentation. It has not been sold yet. Let's keep our fingers crossed..
Isn't that cool? Can't wait to watch the stuff...
And that's not enough, at the convention in Italy (March 2003) he mentioned another upcoming directing job for April.
Other projects
The new CD, "Brave New World", is out already, more about it on my Music-page.
Tim also confirmed the new "Genesis Wave" audio book (more about it at the Simon&Schuster-site) at the Grand Slam convention. The title (according to Simon&Schuster) is "Genesis Force", not "Genesis Wave" this time, but Tim said it continues the "Genesis Wave" series. For a glimpse of the cover art and a short audio excerpt check out this site The audio book is planned for a release in July, it will be available on either tape or CD (this time there will be 4 CDs!).
Tim also continues to teach acting seminars at Saddleback College this spring. He has done a few of these already, he is teaching auditioning techniques and cold reading. This looks like it will develop into a regular event and in the Q & A for trektoday he also said he would like to do more teaching in the future.
Tim is currently also working on several new projects. He is presenting them to various TV networks, cable, syndication and hopefully at least one of them will soon be bought by one of those. The concepts sound interesting. Tim is a bit cautious about giving away too much information on these projects, he says right now not even the titles are 100% certain and can change.
One of these projects has already been realized. I am talking about his audio book for children, called "Bugsters!". For more information on this one check out Tim's official Bugsters-page. You can also find additional information here. In his recent Q & A for trektoday.com (for the link check the Interviews-page) Tim also announced that he has been working on a second CD of "Bugsters!"-stories, that is currently being shopped to publishers for print. Hopefully it will be available soon!
Then there is something he refers to as "Robot/Untouchables". It is also known as "Metal War". This will be a combined life action/CGI project. Tim is working on it together with two other guys, one a writer, one a CGI-computer specialist. A full-length script is already available. If I understood him correctly (I asked him about this project during the Q & A at "Voyager: The Return" in Blackpool in July 2001) their names are Dave Fisher and Keith Damon (sp?). Tim is planning to work on this project as a producer/director and there is also a part in it which he would like to play himself. There is another part in it for which he has Ethan Phillips in mind. In the recent Q&A with trektoday.com he once again mentioned this project, so let's hope it will get realized soon! He also said he is working on a couple other projects together with various partners.
Another concept Tim has mentioned on occasion, is a Sci-Fi/Western-theme for TV. At this point I have no further information on this one.
Since Tim mentioned in his most recent chat that he is pursuing several film and television projects with various production companies we'll hopefully soon hear more about some of these!
In his most recent chat Tim also mentioned a new animated project called "Guppy's Garage". He also said that he is working with a CGI ocmpany called "Toolbox". They design webpages etc. for computers and similar items. I suspect that they are helping him with the "Bugsters"-webpage as well.
Tim is dedicating at least 90% of his time to these three projects right now, but he does take side-jobs when the occasion arises. In April 2002 he did a play, "E/R", at his former University, St. Edwards in Austin, Texas. And in fall 2001 he directed an episode of "The Heartbreak Café". An article about this directing job can be found here. Tim also recorded another audio book, "The Genesis Wave, Book Three" (by John Vornholt), which is available by now. Information on this audio book as well as an audio excerpt can be found here.
In 2002 he also guest-starred in the small role of a "Juror" in the episode "The Real Thing" on "Any Day Now" (original airdate Jan. 6, 2002).
Tim also says he has talked to the producers of "Enterprise" about directing an episode for that series next year and that he hopes this will work out in his schedule.