<

Art Police | Awards | Bugsters | Credits | Déjà Vu | East of Hope Street | Eye of the Beholder | Highwayman | iCarly | Music | Roddenberry on Patrol | Samantha Who | Story by Amy Niles | Trust Me| Voyager
Eye of the Beholder
Tim is currently working on a new short movie, "Eye of the Beholder". He wrote the script and he also directed it on February 3 and 4, 2006, on a "spooky" deserted marine base in Tustin, California. Right now the movie is in post-production, with the editing almost finished. Charles Denler, who won the National Academy of Television Arts and Sciences and his first Emmy in 2004 for the PBS film "Bentley Creek", is scoring the film. Like "Déjà Vu", the movie is produced by Robert Michael Conrad and James Nestor. Once again, Mr. Conrad and Mr. Nestor have provided me with a preliminary draft of cover art and some pictures from the production site. Many thanks! Chances are good that the DVD will be ready for the Vegas convention in August! At any rate, there are plans to introduce the movie there. For information on the convention check out the Creation site. Tim, Garrett Wang, Chase Masterson and producers Bob Conrad and Jim Nestor will all be there to discuss "Eye of the Beholder", "Déjà Vu" and the latest project, Story by Amy Niles. Please keep in mind that all these pics are copyrighted. Do not use them without permission!
"Eye of the Beholder" premiered in L.A. on April 21, at 7:00 PM at Creative City Cafe. This premiere screening was attended by "Xena" producer Steven L. Sears and a group of independent Los Angeles film makers. It was a big success. The audience (full house and standing room only) loved the film.
May 15: If you can't wait to see it, there is a short trailer up at bobandjimprojects.com. I think it looks terrific!
Also, if you have any questions for the producers, Mr. Jim Nestor and/or Mr. Bob Conrad, about any of their projects, especially those with Tim, feel free to contact them at bobandjimprojects@yahoo.com.
The movie is about a woman, Natalie, buying a framed picture of a mysterious woman at a garage sale. But taking the picture home leads to problems for her, when she slowly falls under the pictured lady's spell.
Preliminary art work for "Eye of the Beholder"
| | |
| --- | --- |
| Tim and Robert Conrad on location for "Eye of the Beholder" | Elizabeth, a Victorian character, who haunts an old picture |
| on location | on location |
| working on "Eye of the Beholder" | Chase and Menina during filming of "Eye of the Beholder" |
| Tim and Chase | Chase Masterson |
| Chase and Menina | |
| Bruce A. Young | Chase Masterson |
| Chase Masterson | a mysterious picture frame |
| Menina Fortunato | Vania Christova |
The following b/w pics were taken by Jedda during the filming of "Eye of the Beholder":
Vania Christova on location for "Eye of the Beholder"
The following pictures were taken by Terry Mullin:
Tim Russ working at "Eye of the Beholder"

Chase Masterson and a mysterious picture

Chase Masterson

Composition of various production shots

Vania Christova

Menina Fortunato
The stars of "Eye of the Beholder" should be fairly familiar. Two of them have worked with Tim on previous projects. One of them is Chase Masterson (Leeta from DS9), the female star of "Déjà Vu", who also lent her voice to Flo, the Fly, on "Bugsters".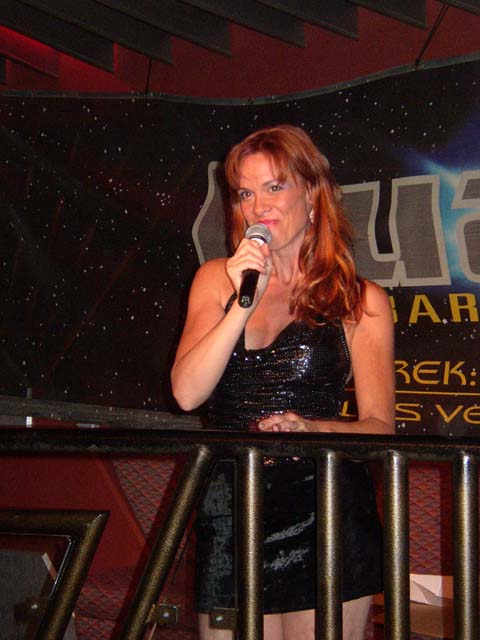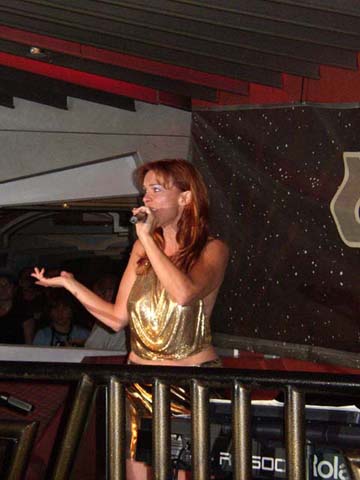 Chase Masterson performing at Creation Con in Las Vegas, August 2005
More about Chase at her official webpage.
Actor #2 is Bruce A. Young from "The Sentinel", who you may also remember from "Art Police".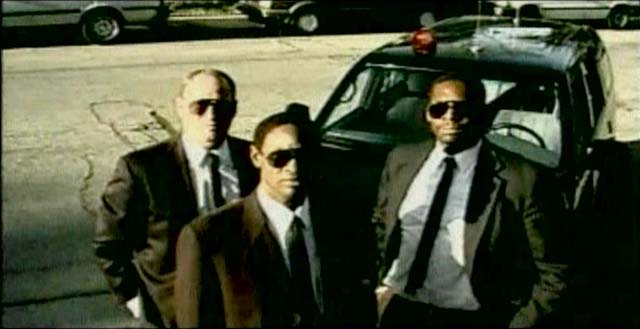 The original team from "Art Police": Dan Chase, Tim and Bruce Young (l. to r.)
For more pictures of Bruce A. Young check out this fanpage.
The third actor is no stranger to Star Trek-fans either, since Menina Fortunato portrayed the Orion Slave Girl "Maras" on Enterprise. I am trying to get a picture of her as well. In the meantime check out her official website!