Art Police | Awards | Bugsters | Credits | Déjà Vu | East of Hope Street | Eye of the Beholder | Highwayman | iCarly | Music | Roddenberry on Patrol | Samantha Who | Story by Amy Niles | Trust Me| Voyager
Déjà Vu
In Spring 2005 Tim directed "Déjà Vu", a short Sci-Fi movie, for Robert Michael Conrad Productions. Garrett Wang and Chase Masterson are the stars. Check out Chase's official webpage! Garrett plays a guy, who buys somebody else's memories in a black market auction, and Chase plays his girlfriend. Of course Garrett's character gets into trouble following the purchase of these memories...
The movie was introduced at Grand Slam convention in Pasadena on March 11. Here are a few pics from that event (thumbnails) that I redceived from Mr. Robert Conrad. The pics show producers Jim Nestor (left) and Robert Conrad (right) at Grand Slam, introducing "Déjà Vu". startrek.com has a report on the panel with Tim, Garrett and Chase.
Important promotional events:
There will be a screening of "Déjà Vu" and of "Eye of the Beholder" in L.A. on April 21, at 7:00 PM at Creative City Cafe. The address is 7310 Santa Monica Blvd. (Between Fairfax and La Brea). Tim will be introducing both films and afterwards there will be a discussion with the audience.
"Déjà Vu" has just been entered into the Palm Springs International Festival of Short Films. The festival will be August 24-30.
Ordering the DVD: The DVD is now available from www.bobandjimprojects.com. The plain DVD is $15, an autographed copy (signed by Tim, Garrett and Chase) is $30 - only a limited number of these is available, though. Also, if you have any questions for the producers, regarding this or any other project of theirs (especially those with Tim, of course!), feel free to write to them at bobandjimprojects@yahoo.com.
I will hopefully soon be able to give you details on how and where you can order the DVDs. To pique your curiosity, here are two behind the scenes production stills as well as (new!) the cover art, courtesy of Mr. Conrad, and the press release, courtesy of Mr. Jim Nestor.
Press Release
IRVINE, CA November 16, 2005 Tim Russ, in association with Jim Nestor and Robert Michael Conrad Productions, has released his latest short film titled Déjà vu. Starring Garrett Wang and Chase Masterson, this sci-fi thriller takes place in the future where the selling of memories is neither legal nor illegal, just yet. Unusual consequences are a result of this particular purchase which brings special meaning to those immortal words "buyer beware". Filmed at an abandoned helicopter base in Tustin, California, Russ used vast open areas as well as small nooks and crannies to achieve his vision for this film. "The feel and openness of the site added great production value to the film", said Russ. Sci-fi fans will enjoy this film written and directed by Tim Russ, best known as Tuvok, the Vulcan security officer on Star Trek: Voyager. Other Star Trek notables featured include Garrett Wang from Star Trek: Voyager and Chase Masterson from Star Trek: Deep Space Nine. Along with Déjà vu, another of Russ' endeavors, Art Police: Toxic Art, is included with the DVD that will be promoted at conventions around the world. It will also be featured on fan based web sites. Russ' other credits include working as writer/producer on the feature film, East of Hope Street, which has won several film festival awards. Tim's directing credits include an episode of Star Trek: Voyager, several episodes of the cable TV show The Heartbreak Café, The FBI Files, and recently an independent film titled Rodenberry on Patrol. Over the past 10 years Robert Michael Conrad and Jim Nestor have produced several cable television shows including The Heartbreak Café, Hotel Vegas, and Haunted Crossing, as well as independent short films including Blue Skies, Actor, and The Routine. Conrad and Nestor have teamed with Russ on several of these projects. They have also collaborated with other sci-fi notables over the years including Walter Koenig (Star Trek, TOS), Roxann Dawson (Star Trek: Voyager), Dominic Keating (Enterprise), Claudia Christian (Babylon 5), Dean Haglund (X-Files), and Anne Lockhart (Battlestar Galactica).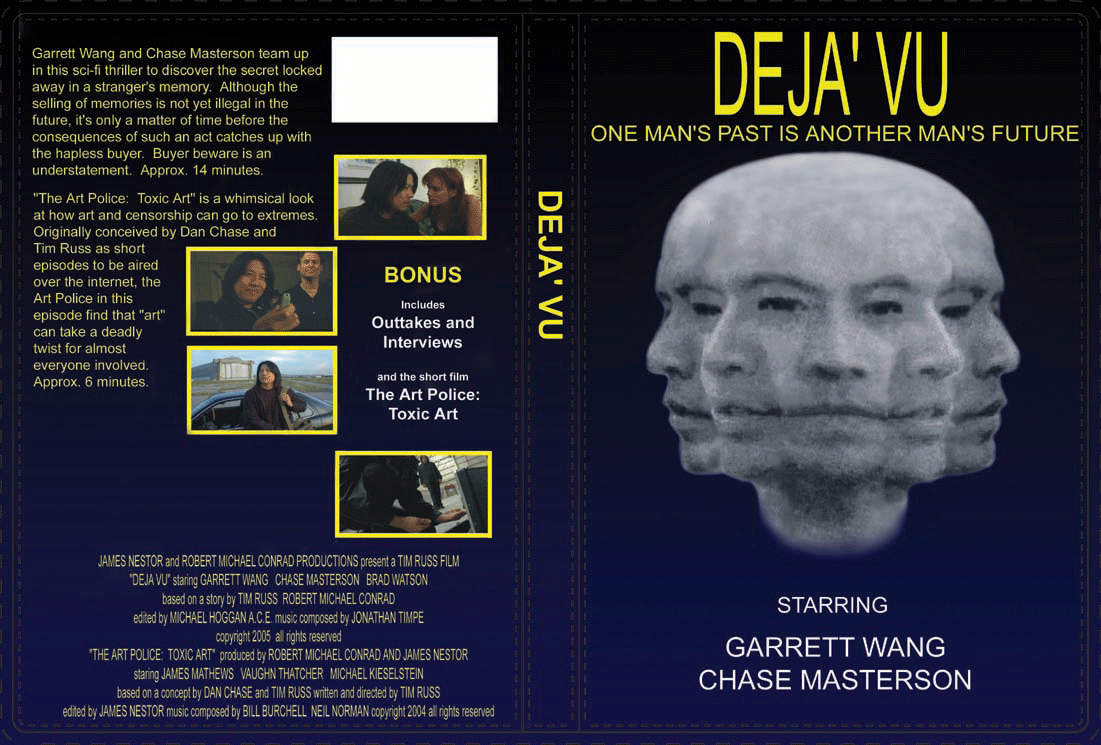 I just got my copy of "Déjà Vu" - thanks to Robert Michael Conrad and Jim Nestor, who decided somebody had to test if the DVDs work on European DVD players. I am very grateful to the two, and I can assure everybody that in fact, the DVD can be played back on European machines.

The movie runs about 14 minutes, and it has a nice twist in the end. There are some really good visual effects, like e.g. the use of black and white footage for the flashback sequences or the split screen showing Del's obsession. There are some interesting camera angles as well, I particularly like one towards the end, where one actor blocks the view on what goes on behind him - you will understand when you watch the movie, I am not giving away the entire story! Garrett Wang and Chase Masterson are both at their best and very different from their respective Star Trek characters. Brad Watson, who plays the buddy of Garrett's character Del, also puts in a solid performance.
The DVD also contains lots of bonus material. The outtakes and interviews are about as long as the movie itself and give a very good idea of the making of "Déjà Vu". Both producers, all three main actors and Tim comment on the film, we see short sequences of how some of the key scenes were filmed, and there are also some bloopers and goofing around, especially by Garrett.
An additional bonus is a new episode of "The Art Police" - written and directed by Tim. This is a different team of policemen, though, Tim did not reprise his character for this new episode Dan Chase or Bruce A. Young. But the concept is still the same and the story is fun to watch.
For all of you dying to see the movie, here are a few pics to whet your appetite. Since I don't want to spoil the fun by giving away the ending, there are more pics from the outtakes than from the movie. As always, these are thumbnails.