Art Police | Awards | Bugsters | Credits | Déjà Vu | East of Hope Street | Eye of the Beholder | Highwayman | iCarly | Music | Roddenberry on Patrol | Samantha Who | Story by Amy Niles | Trust Me| Voyager
"Roddenberry on Patrol"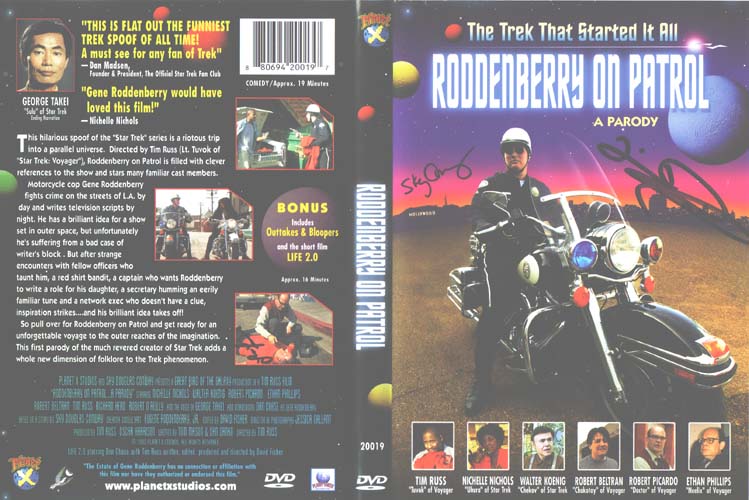 How to order: I just received the following information about ordering the DVD: "Yes, It will be available via the internet on PlanetXStudios.com on January the first or you may call and order over the phone at 1-800-686-3598. Ask for Tracy." (Thanks, Jannie!) I hope that helps!
They finally got the link up! Go here or here to order it! You need a paypal-account in order to do so, they charge you $ 20.98 - I assume that includes postage. You have to hit the "Buy Now"-button, though. The "Order Now"-button does not work.
In September 2003 Tim Russ directed this short parody about Gene Roddenberry, the cop, out on patrol, having certain encounters that may have inspired him for "Star Trek". It's a loving tribute to the "Great Bird of the Galaxy", and it's hilarious at the same time. Roddenberry is played by Dan Chace, who also worked with Tim on "The Art Police"-series, and several Trek actors, among them Tim himself, make guest appearances. The DVD premiered at a convention in El Paso over the weekend of Nov. 15-16, 2003. I saw it first at Seatrek 2003 in December, and it was such a big success there, that they had to show it twice. Tim Russ attended both showings and talked a bit about making the movie. By the way, I think it's the first time since the end of Voyager that I saw Tim act, and I very much like what he did with his character. He is on screen only for about a minute, but he is fantastic. I wish we could see him more often in front of the camera!
Tim said, that Walter Koenig completely ad-libbed his part. He thinks that only the very first line, "You are behind in your rent, Mr. Roddenberry", was actually in the script. Walter's scene is a hoot, by the way, he manages to bring so many clever references into his few lines, it's almost scary. According to Tim, Beltran, too, played his scene completely different than originally planned. He kept saying to Tim: "Let me try something!" and then he played the character in a very different way than he sounded in the script, but everybody liked it, so they kept it this way. They wanted very much to include George Takei, but he had a prior commitment, so he only could do the voice over at the end. The actors all got paid scale, they all got the same.
The movie was filmed over a weekend in Downtown L.A. Since this is a business area, the streets were deserted anyway, and it did not take extensive traffic control to keep the streets and sidewalks free for the filming team and the stars. They only needed two or three streets anyway.
They originally had somebody else in mind to play Roddenberry, but this did not work out, and then they fortunately found Dan Chace, who not only met the requirement of having a license for driving motorcycles, but also very much looked like Gene. The motorcycle was another problem. Of course they needed a real one, the type that was used in the 60ies when Gene worked as a police cop. They had to rent one - actually two. Tim wanted a spare one in case something went wrong with the bike, since they wouldn't have anybody around that could repair it, if there were problems.
The set of Roddenberry's home was not actually a set. It is a real home, somebody's living room. Tim found it by doing an internet research on interesting places, that could look like a TV/movie-addict's home. He said the place was incredible, it was packed with memorabilia from pretty much everything, not one square inch of the wall looked the same, since it was all covered in posters, plaques, etc. They even took pictures of it as a reference what a collector's home might look like, in case they need that for a scene in a future movie!
The script had a few more scenes that were not filmed, because they would just have been too expensive, more sets, more actors etc., without adding much to the story.
The idea with the coffee pot towards the end of the movie was actually by Gene Roddenberry Jr., who is not only credited as "Creative Consultant", but very much likes the parody and complimented everybody involved, especially director Tim Russ, on the beautiful job they had done.
Tim also speaks about this project in a recent interview with Star Trek Communicator. trekweb.com just published a review of it - they liked it, too!
"Roddenberry on Patrol"
directed by Tim Russ
written by Tom Mason & Dan Danko
based on a story by Sky Douglas Conway
producers: Oscar Harrison, Tim Russ
music: Bill Burchell
starring:
Roddenberry , Dan Chace
Walter Koenig, Robert Beltran, Nichelle Nichols, Ethan Phillips, Robert Picardo, Tim Russ, Robert O'Reilly, Richard Herd all appear in short scenes, and George Takei has a voice over towards the end.