Art Police | Awards | Bugsters | Credits | Déjà Vu | East of Hope Street | Eye of the Beholder | Highwayman | iCarly | Music | Roddenberry on Patrol | Samantha Who | Story by Amy Niles | Trust Me| Voyager
"Story by Amy Niles"
Tim's next short movie produced by Robert Michael Conrad and James Nestor is entitled "Story by Amy Niles". Sept. 15: The trailer for "Story by Amy Niles" is now online at bobandjimprojects.com. June 29: Filming has started already, and the first pictures can be found ci-below. Location filming will be done in the Orange County.
| | |
| --- | --- |
| Menina Fortunato as the heroine of Amy's story with Janet Po, playing one of the villains | Tim directing Crystal Allen, who plays Amy |
The tentative casting is as follows (with thanks to Robert Michael Conrad for the information and the pictures!):
Crystal Allen, who played the Orion Slave Girl "D'Nesh" in Enterprise's "Bound", plays Amy Niles. Amy is a bookish, soft-spoken woman who works in a dead end, tedious office job. She dreams of being a full time novelist, and she's in the process of finishing her first book. She lives though the characters and their actions in her story - her own life being devoid of any romance or excitement for the most part. In her mind she visualizes scenes in her story with the characters played by her boss, co-workers and friends. She does this often, including while she's at work, and she gets in trouble for it.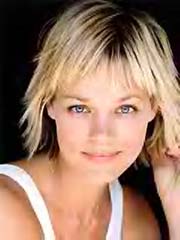 Crystal Allen
Menina Fortunato, Allen's co- star on Enterprise's "Bound", plays Rebecca Cannon. She is an agent in Amy's story. She's lean and tough and can hold her own against the bad guys. She is kidnapped and interrogated by Piper Lawrence, but not before she gets a few licks in of her own.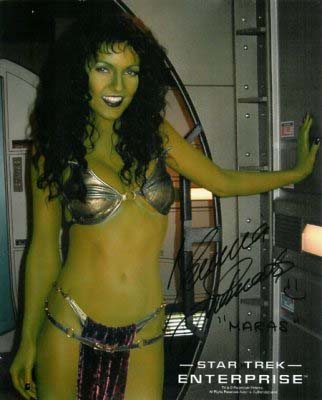 Menina Fortunato

Menina has worked with Tim before, on the short "Eye of the Beholder". Don't forget to check out her webpage!

Gordon Woolvett of the TV Series "Andromeda" plays Mark Riley, who catches up to her. This character doubles as Jason Storm, a dashing, rugged, chiseled man. He is the hero of Amy's fictional story.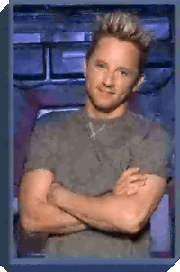 Gordon Woolvett