Art Police | Awards | Bugsters | Credits | Déjà Vu | East of Hope Street | Eye of the Beholder | Highwayman | iCarly | Music | Roddenberry on Patrol | Samantha Who | Story by Amy Niles | Trust Me| Voyager
East of Hope Street
News!
"East of Hope Street" is out on DVD! It was released on Sept. 21, 2004 by Maverick Entertainment. You can buy it pretty much through all major DVD-selling companies, like amazon.com or DVD Empire.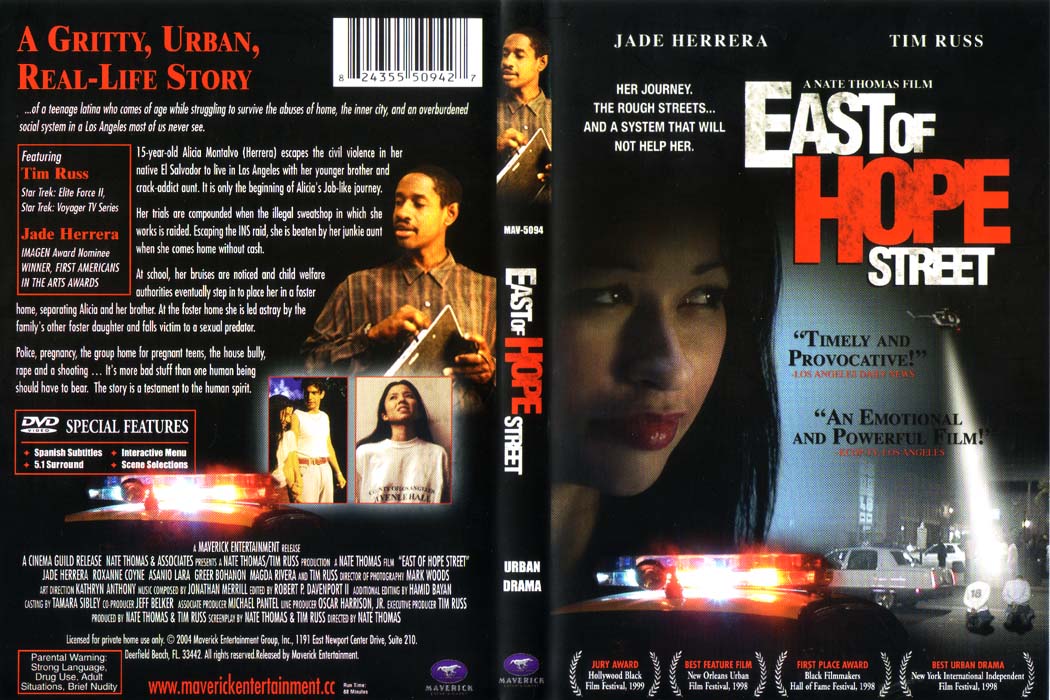 This independent movie was filmed over the hiatus in 1996 (i.e. between Voyager's second and third season). After cutting, editing etc. had been finished it made the round of various movie festivals where it was critically acclaimed and won several awards (1998 and 1999 s. Awards-page). In fall 1999 it premiered in Los Angeles at Laemmle's Grand 4-PLEX on Nov. 5 and was subsequently shown in various smaller theaters specializing in art films around the country.
Some of the more important credits of the movie:
East of Hope Street
Directed by Nate Thomas
Produced by Nate Thomas & Tim Russ
Screenplay by Nate Thomas & Tim Russ
Executive Producer: Tim Russ
Cast:
Jade Herrera
Roxanne Coyne
Asanio Lara
Greer Bohanon
Magda Rivera
Tim Russ
More information on cast and crew, plus bios on Nate Thomas and Tim can be found was available on the NY-film festival-page. At the moment, hat particular page seems to be in the process of being moved at nyfilmvideo.com. They still point their links to that page, but it's not there right now. Since I wanted to be able to give you all the information available on that movie, I looked up the page in the internet archive and turned it into a new page. You can read it here. Keep in mind, though, that he content of this linked page is copyrighted by nyfilmvideo.com!
Several interesting articles about the production of the movie can be read here and here.
Reviews of the film are available here (the negative one) and here (the positive one). Another site to check out might be this one.
"East of Hope Street" is a very touching movie. The heroine, Alicia, goes through hell and back: civil war at home, her parents killed, she and her little brother live with a drug-addicted aunt in L.A. When authorities notice that Alicia obviously gets beaten a lot, the children are brought to different foster homes. The separation from her brother is hard on Alicia, but the horror is far from over... She overcomes all obstacles, though, with the help of some friends. She is a remarkable person - and what's even more remarkable, the movie is based on a true story. Things like that happen every day.
Of course a story like that hugely depends on the lead actress portraying Alicia. Jade Herrera seems ideal for the part. She has an incredible range and is convincing in every single scene, incredibly tender and warm in the scenes with the children (Alicia's brother and later her son as well), she can be terrified, shocked, surprised, in love, idealistic, strong. Her plea to give Alicia a chance and let her stay in the United States is particularly touching. She really is the star of this movie. The supporting cast is fabulous as well, every character well drawn and believable. The story is a great commentary on certain aspects of society. I also like the fact that it does show us hope: it is possible to come out on top, to make your dreams come true, if only you try hard enough - and if you have some help. Maybe Alicia would not have found the strength within herself without her friends: social workers Bianca and Casey (Tim Russ), her ill-fated friend Rosa, and without the people she cares about: her little brother, her son, her boy-friend Carlos. But all these people are there and meeting them and interacting with them helps her to find her way and to gather her little family around her in the end.
| | | | | |
| --- | --- | --- | --- | --- |
| Alicia and her brother | temptation | Carlos | love | lust |
| rape | arrested | what now? | new mentor | new group |
| building up trust | new best friend | confession | telling Carlos | feeling hurt |
| support | assault | new beginning | little son | graduation |
| revenge | speaking up for herself | let me stay | waiting for the judge's decision | credits |